We are excited to announce that cBEYONData was selected as a finalist for the ACG Corporate Growth Award in the Emerging Growth Company category!
ACG's National Capital Corporate Growth Awards is the premier corporate growth event for the Washington metropolitan area. These awards will honor M&A, Private Equity, and Corporate Growth leaders.
The National Capital Corporate Growth Award Finalists have been selected as having demonstrated a commitment to excellence in planning and executing partnerships, mergers/acquisitions, product extensions or other strategic alliances for the purpose of driving growth and maximizing value for their stakeholders.
This year's finalists have been distinguished from their peers based on ACG's stringent criteria and will be recognized at the 20th Annual Corporate Growth Awards on June 19th at the Capital Hilton Hotel in Washington DC.
We are honored to be named as a finalist in the Emerging Growth Company category. Here at cBEYONData, we believe true business transformation is achieved through alignment between technology decisions and business strategy. By leveraging our expertise in helping leading organizations develop solutions that drive performance through data insights and insights-driven decision-making, we help clients maximize their impact on the business by enhancing enterprise agility and enabling them to thrive in an evolving marketplace.
Learn more about ACG's National Capital Corporate Growth Award Finalists on their website.
The Moxie Awards recognize companies and leaders who are making an impact in their industries and communities. Government Contractors are recognized for having demonstrated boldness and innovation as an integral part of their growth strategy. These outstanding organizations help make the DC metro area a great place to do business and an incredible place to live, thrive and play.
This year, the Moxie Awards recognized companies and leaders who are making an impact in their industries and communities. cBEYONData has made it to the finalist stage of this competition. cBEYONData is competing against 7 other companies within their category, which includes companies with between 200-299 employees. The winners will be announced during an awards ceremony at the Ritz-Carlton in Tysons Corner, VA on October 26th!
We are honored to be selected as a finalist for this outstanding award, excited to be recognized for our hard work, and proud to be a part of this community. cBEYONData will continue to provide our customers with the best solutions and services possible.
For more information about The Moxie Awards, please visit their website at: https://moxieaward.com/finalists/.
The cBEYONData team was honored to attend AGA's PIO-CFO summit on May 12, 2022, in Washington, D.C!
The PIO-CFO Summit aims to strengthen collaboration and understanding throughout the federal government communities. The PIO-CFO summit went over strategic planning/ management, infrastructure, leadership, and federal financial management this year. This event ended with leadership perspectives on the President's Management Agenda, setting ambitious goals for strengthening the federal workforce.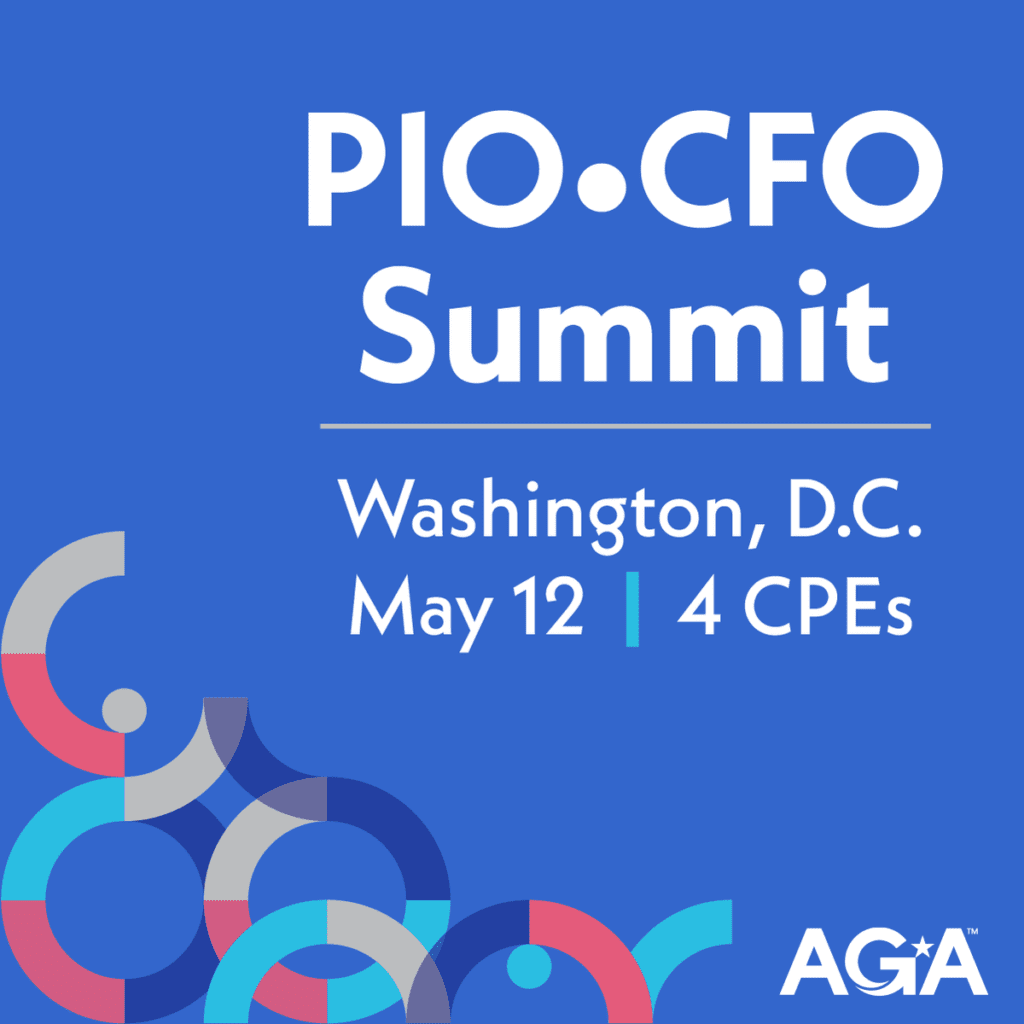 There were some great speakers at the event such as Ann Ebberts, CEO, AGA; Mary Goldsmith, National Federal Sector Director, RSM and Amber Heimberg, Director, Guidehouse.
Our team had a great time attending and speaking with fellow attendees! We can't wait for the next AGA event, and for next year's PIO-CFO summit! To stay up to speed with the 2023 PIO-CFO summit please visit the AGA – PIO/CFO website!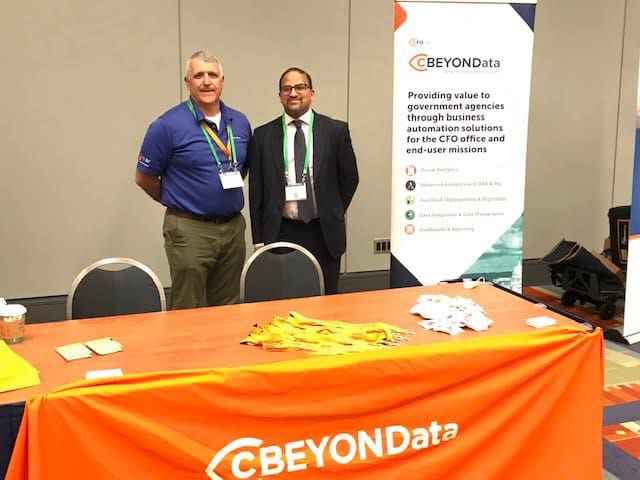 About AGA:
AGA is the association that connects and empowers financial related professionals who support government, from financial management to IT, human resources, cybersecurity and more, to advance good government initiatives, grow their expertise and accelerate their careers.
We connect and empower professionals to help them:
Advance sound financial practices, accountability, transparency and excellence in government
Grow, learn, excel and engage through a network of likeminded professionals and leaders
Accelerate professional careers through learning opportunities and the opportunity to earn a unique credential – the Certified Government Financial Manager, the only credential developed solely with the government financial professional in mind.
Through thought leadership, certification, and national and chapter educational events, AGA remains at the forefront of emerging issues and innovation — driving excellence and transparency in government accountability.
We are honored to be selected as a finalist for the SECAF Government Contractor of the Year Award! ​​The Annual Government Contractor Awards celebrate SECAF members and other government contracting organizations that have demonstrated a commitment to industry excellence. 
Our team will be attending the Awards Gala for final selection. The annual Awards Gala convenes SECAF members, industry influencers, government agencies, professional service providers, and other key industry stakeholders for a night of recognition and success. 
Thank you to SECAF for this recognition. We are excited to continue innovating in our industry and strive for excellence in all of our projects. For further information on the SECAF awards please visit the SECAF 2022 Awards website.
About SECAF
For more than 20 years, the Small and Emerging Contractors Advisory Forum (SECAF) has empowered government contractors like you to scale and succeed—beginning with your new, emerging or small business and supporting your continued growth journey as you transition into medium and large contracting entities. When you're ready, established professional service providers will work with you to implement relevant growth strategies that help your contracting business achieve next-level results.  
 SECAF is comprised of the senior leaders from active government contractors, all of whom demonstrate a genuine willingness to help each other succeed, motivated by the shared belief that the industry is robust enough for every member company to prosper.
We are excited to be participating in the SAP BusinessObjects Federal User Group May 25th in Reston, VA! This user group is built to expand and refine the knowledge base of the SAP BusinessObjects community in the DC Metro area, and is a collaborative effort featuring information and presentations from Wiiisdom, 360Suite, SAP, Carahsoft, NS2 and cBEYONData!
This event will feature topics such as "Top 10 tips & tricks to better design a Webi", "SAP BusinessObjects with HANA DB & row level security options", "All about hosting SAP BusinessObjects on SAP NS2" and more!
From Wiiisdom:
Join us as the experts share insight into customer success, regulatory needs, cloud strategies, and more! Attendees will be treated to complimentary breakfast and lunch, including an afternoon barbecue cookout, complete with vegetarian options and refreshments. Free parking is also available on-site.
Head to their website to learn more!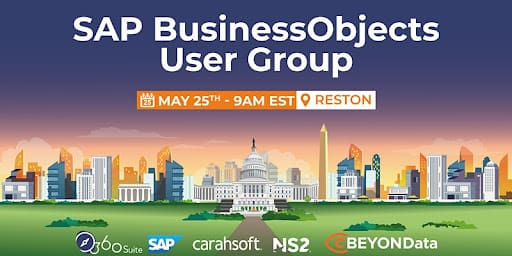 cBEYONData has been recognized and ranked by the Washington Business Journal as being the one of the top #100 small companies for corporate diversity in the Washington DC metro area, and ranked #36 overall.
The Small Company Corporate Diversity Index list is ranked by percentage of total employees that are people of color, for companies with less than 100 total employees.
It is an honor to have made the Washington Business Journal's small companies in the Greater D.C metro area list and to be featured along with other great DC-based companies! We are excited to add to our growing awards list, as we are always striving to be a company of innovation, growth and inclusion.
Thank you, Washington Business Journal!
About cBEYONData
cBEYONData is a purpose-built professional services firm that specializes in supporting mission-driven agencies and organizations with the enhancement of business processes, cloud migrations, business intelligence, data management, data analytics, agile project and process management, dashboards, and geo-mapping. cBEYONData is a portfolio company of Bluestone Investment Partners. Please visit www.cbeyondata.com for more information.
(Washington, D.C., January 10, 2022) 
cBEYONData announces the promotion of Michael Huffman to the role of Chief Growth Officer (CGO).
Mr. Huffman has supported the company's growth as Vice President of Business Development since 2017, transitioning the company from a small business into a rapidly growing mid-sized leader in the federal market.
In his new role, Mr. Huffman is responsible for leading the growth of the company with hands-on engagement in all aspects of growth to achieve corporate growth objectives. He works closely with delivery leadership, helping delivery teams identify and apply the best solutions to address customer requirements. Michael oversees the opportunity capture process, working as part of the team to identify new business opportunities and successfully win the ability to deliver the best outcomes for our federal clients. He also oversees the firm's marketing efforts to enhance the visible presence of the company to reach future customers.
During his 30+ year career, Michael has spent over 20 years building, growing, and managing organizations, programs, and projects. He has extensive experience addressing customer needs with solutions, providing consulting service excellence, and managing a wide range of federal government contracts. He has led organizations and projects ranging from small projects with one resource to large federal programs with values exceeding $100M.
"Michael has proven his ability to build the business through his strong performance, client service, and sales leadership. As our growth leader, Michael will continue to solidify our company's commitment to building a business designed to help our federal clients solve their toughest challenges", said CEO Dyson Richards.
Mr. Huffman holds a B.S. in Electrical Engineering Technology from Old Dominion University and an MBA from the College of William and Mary. He is also a certified PMP as well as holding multiple agile certifications.
About cBEYONData
cBEYONData is a mid-sized business specializing in providing data focused solutions to the Federal Government. As a purpose-built professional services firm, cBEYONData supports mission-driven agencies and organizations with the enhancement of business processes, cloud migrations, business intelligence, data management, data analytics, agile project and process management, dashboards, and geo-mapping.
MCLEAN, Va., Sept. 9, 2021 /PRNewswire/ — Bluestone Investment Partners II, LP ("Bluestone"), a McLean, Virginia-based private equity firm, is pleased to announce the completion of an investment in cBEYONData (the "Company"). cBEYONData is a professional services and solutions company specializing in supporting mission-driven agencies and organizations with the enhancement and automation of business processes, cloud migrations and enablement, business intelligence, data management and warehouses, data analytics, and agile project and process management. cBEYONData primarily provides these solutions to government Chief Financial Officer-level executives at multiple law enforcement, civilian, and defense agencies. The Company's CFO Control Tower® suite is a scalable on-demand solution that enhances federal government financial systems reporting and allows clients to quickly automate business process and reduce the time spent on data aggregation and manipulation. The Budgeting and Spend (BAS®) module is preconfigured to meet the needs of federal budgeting organizations and improve and automate a wide range of planning, forecasting, consolidation, and financial reporting requirements. cBEYONData represents Bluestone's fifth platform investment in its current fund and its seventh transaction since March 2020.
David Schmidtknecht, Co-Founder of cBEYONData said, "Our team has worked together for many years and this investment by Bluestone represents an important milestone in our corporate history. With this investment, we have the additional resources necessary to expand our product offerings and deliver on the evolving needs and expectations of the federal government CFO community."
"We are excited about our partnership with cBEYONData" said Eric Wolking, Operating Partner of Bluestone. "The Company's rapid deployment of financial management reporting and compliance solutions for federal agencies enables higher success with achieving the customer's mission. This strong reputation as a purpose-built professional services provider is evidenced by remarkable growth in recent years."
Monument Capital Partners provided investment banking services to cBEYONData.
Continue reading the full press release on Yahoo Finance.