News & Events
Check out all of the latest and greatest News and Events here at cBEYONData
Our meet the team segment is here! This is our regular segment where we feature one of our employees, hear about their experience, and ask them questions about working at cBEYONData! This week we talked with a new employee, Rachel Furman! Rachel has over 10 years of experience in the business intelligence industry and has worked on some incredible projects! We are excited to have Rachel on the team here at cBEYONData, and to showcase her work in the future!
Name: Rachel Furman
Title/Team: Sr. Consultant/Unisys USMS POD Contract
How long have you been with cBEYONData? Two weeks
What is your favorite part about working at cBEYONData? I work with a great cBEYONData team
How long have you worked in the business intelligence industry? Ten years
What was your first job title in the industry? Business Intelligence Specialist
What does cBEYONData offer that our competitors do not (or what makes cBEYONData unique)? I converted forty SSRS (SQL Server Reporting Services) reports to Tableau. It was both interesting and challenging
What do you like to do in your "off work" time? I enjoy spending time with my dog, playing softball and traveling
Do you have family/pets? I have a 16-month old yellow lab: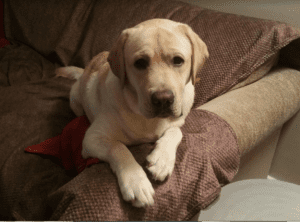 Here at cBEYONData our philosophy is to nurture our culture and make it a top priority in the company, then our associates' happiness, customer satisfaction, and long-term business partnerships will naturally flourish. Company culture is derived from its core values and our core values are meant to empower our associates so they enjoy the work they do and the environment they do it in. We know that when we enjoy what we do, we are in turn delivering exceptional service to our customers and thriving in our business. To make this happen, we hire and invest in associates that share our core values.
cBEYONData is a results-driven firm that provides value to government agencies and organizations through Business Intelligence (BI) solutions for the CFO's Office and end-user missions. We ensure our customers' analytical and reporting requirements are met through solutions such as financial reporting, audit readiness, DATA Act analytics & submission, procurement & external reporting, dashboards, analytics, visualizations, and geo-mapping. cBEYONData is committed to customer success, as demonstrated by our strong customer retention rates, references and awards.