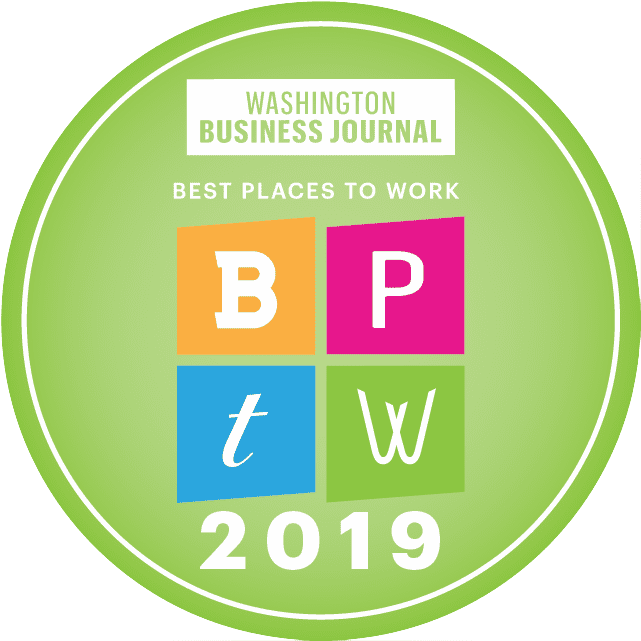 On April 5th, 2019, cBEYONData was nominated as one of the 2019 Best Places to Work in the Greater Washington DC area, by the Washington Business Journal, in the Medium/Mid-Size category. Companies are rated based on the following criteria:
Team effectiveness
Retention
Employee alignment with company goals
Trust with co-workers
Individual contribution
Manager effectiveness
Trust in senior leaders
Feeling valued
Work engagement
People practices
Communication and Resources
Individual Needs
Manager Effectiveness
Personal Engagement
Team Dynamics
Trust in Leadership
From the Washington Business Journal website:
Nominated businesses meeting criteria for business location and size are invited to participate in employee engagement surveys distributed by Quantum Workplace. Based on the results of those surveys, businesses are assigned a score out of 100 percent and ranked by Quantum. The top-rated companies in four size categories — small, medium, large and extra-large — are honored by the Business Journal as Best Places to Work.
Read more about the 2019 Best Places to Work on their website.
We are excited to receive this nomination, as we believe that this showcases one of cBEYONData's greatest strengths; our work environment. Here at cBEYONData, we believe that our employees are our most important and valuable asset. We believe that employees are more than "just an employee"; they are a person with life aspirations and career goals who has dedicated a large part of their lives to being part of the cBEYONData team. If this sounds like a work environment you'd like so join, we are always hiring for different positions! Head to our Careers section, to learn more, and apply!