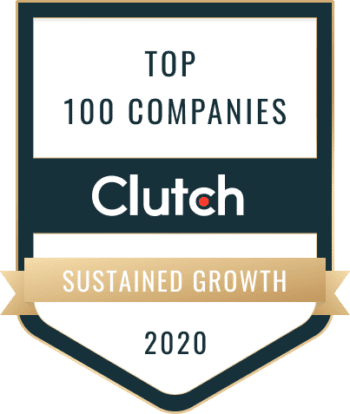 Clutch has just announced the Clutch 100, a list of the 100 highest-performing service providers across the globe. These award winners represent the top-performing firms on their site regardless of
service line
.
We are honored to be named a member of the Clutch 100 for Sustained Growth for 2020! The top 100 sustained-growth companies are ranked based on their absolute revenue growth rate from 2016 to 2019. It is an honor to be listed on Clutch as #78 in the top 100!
"We are thrilled to have been chosen as one of the leading Big Data Consultants two years in a row!" – Theresa Backus Dunn, Director of Marketing
Based in the heart of Washington, DC, Clutch is a B2B market research firm. Their team independently interviews the past clients of companies listed on their site. This direct feedback ensures that all of the verified reviews on Clutch add value for the reader.
"The Clutch 100 growth lists represent the top service providers based on revenue growth over the years," said Clutch Founder Mike Beares. "Their recognition is only possible because of their willingness to participate and their commitment to delivering the best services to their clients."
We are grateful for every one of our wonderful customers who made this possible by leaving us reviews on Clutch. Here is what they had to say about working with us.
"Their attention to detail and knowledge of the product is very strong. We're always learning something new from them and they provide a lot of valuable input." – Financial Systems Officer, Legislative Branch
This award and our perfect 5-star rating were made possible by all of our wonderful clients!
To learn more about us and our previous project, read the reviews left by clients on our Clutch profile. Ready to get started on your next project, contact us.