We are honored to announce that cBEYONData is the cover story for the CIO Review's 2018 Business Intelligence Special! The article features a great write up on cBEYONData as a company, along with an interview from our Principal, David Schmidtknecht. The cover story covers our Rapid Deployment Solutions, how we Look Beyond the Data, our Business Philosophy and more! Along with this article, CIO Review wrote a case study on how we successfully implemented cloud-based solutions with the Department of Justice, showcasing our approach, implementation, review and success on this project!
Our team is thrilled with the cover story, and we hope you get the chance to read and let us know what you think!
Along with this cover story, CIO Review has named cBEYONData, one of the "20 Most Promising Business Intelligence Solution Providers – 2018". This is a great accolade and we are excited to continue providing great business intelligence and data analytics in 2018, and far into the future!
Be sure to read the digital copy of CIO Review's Business Intelligence Special on their website, and pick up a printed copy mid-April! Here's a quick preview of the article: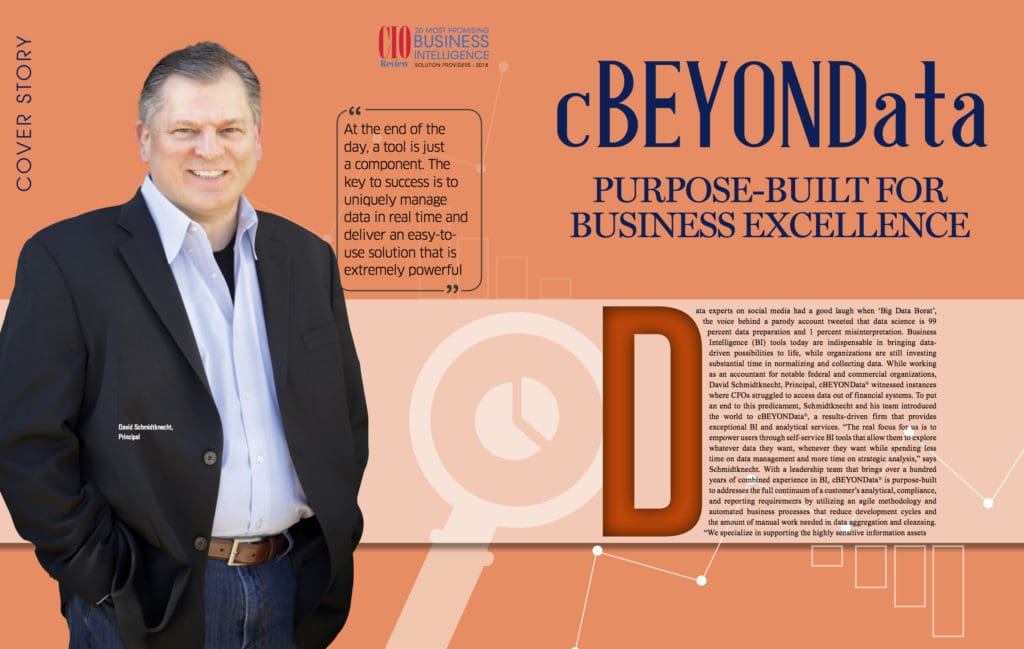 cBEYONData is a results-driven firm that provides value to government agencies and organizations through Business Intelligence (BI) solutions for the CFO's Office and end-user missions. We ensure our customers' analytical and reporting requirements are met through solutions such as financial reporting, audit readiness, DATA Act analytics & submission, procurement & external reporting, dashboards, analytics, visualizations, and geo-mapping. cBEYONData is committed to customer success, as demonstrated by our strong customer retention rates, references and awards.