Enterprise Architecture
It is widely recognized that automation is a key element of Digital Transformation. Technologies such as Robotic Process Automation, Machine Learning, and Artificial Intelligence are key to enabling organizations to automate effectively, and Enterprise Architecture is the foundation for identifying and prioritizing automation across an enterprise.

The Capabilities
Common business needs that can be addressed through an Enterprise Architecture engagement include:
Regulatory Compliance Requirements
- Assess the operational impact of new regulations
- Demonstrate compliance to oversight bodies
Business Process Analysis and Redesign
- Continuous process improvement
- Organizational redesign
Operating Model Changes
- Outsourcing decisions
- Digital transformation
- Customer-centered organization
Technology Changes
- Portfolio rationalization
- Enterprise IT implementation
- Cloud investment
Our Services
Our Enterprise Architecture services are more than just developing Enterprise Architecture artifacts.
cBEYONData utilizes Enterprise Architecture to enable structured management of organizational change through transformational initiatives spanning business processes and information systems.
They include:
01
Enterprise Strategy Alignment
02
Business Capability Planning
03
Enterprise Architecture Maturity Assessment
04
Architecture framework adoption, modeling, and scaling
We leverage our experience in strategic consulting, business process reengineering, portfolio management, IT governance, and automation to deliver comprehensive solutions that help our clients achieve their strategic objectives.
Our consultants have a strategic perspective on Enterprise Architecture, and they apply a wholistic approach to its implementation to ensure it delivers value to the organization.

We partner with our clients to understand their business requirements and vision, and how that translates to a planned end-state.

We integrate enterprise architecture and portfolio management to deliver an executable plan enabling our clients to advance their strategy and achieve their goals.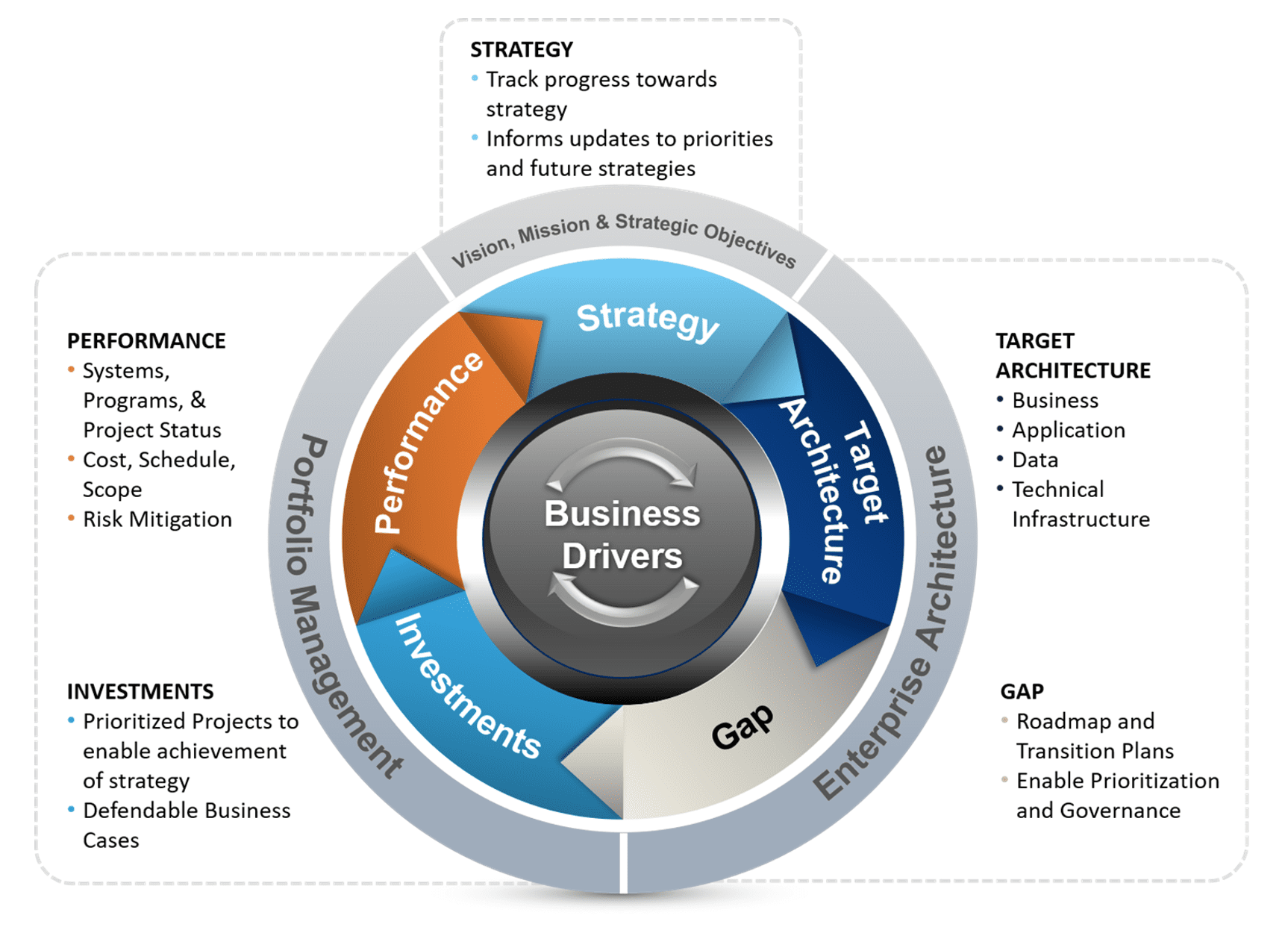 Being able to see all of an organization's business drivers in motion at once can be a daunting task and we have developed a proven methodology aligning strategy and execution.
An Enterprise Architecture that aligns strategy and execution
We work with our clients to develop and maintain an Enterprise Architecture that aligns strategy and execution, prioritizes their business investments, and implements governance and monitoring of strategic investments.
01
We begin by documenting our client's internal and external business drivers and assessing the maturity of their Enterprise Architecture and change management processes.
02
Next, we help them enhance their Enterprise Architecture and change management processes with the knowledge, tools, and stakeholder relationships necessary to implement beneficial changes.
03
Next, we document and correlate the attributes of the client's business requirements, processes, and IT enterprise and align them with the organization's strategic objectives.
04
Then we deliver a Roadmap and Transition Plan, which define and guide the required organizational changes.
05
We emphasize building data quality into Enterprise Architecture such that it can be used to perform data analysis in support of application rationalization, requirement to capability assessments, process integrity evaluations, and alignment to stakeholder value.
06
Simultaneously, we work with senior leadership to ensure involvement and buy-in with Enterprise Architecture milestones to facilitate achievement of strategic goals and the operational vision.
Our team works to build on our client's Enterprise Architecture maturity though the integration of its Enterprise Architecture assets within the existing internal processes such as IT Service Management, operational development, and portfolio management to operationalize change management and governance.
Benefits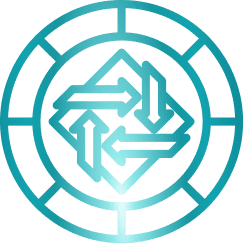 As a result of our Enterprise Architecture services and solutions, our clients:
Gain organizational insight through strategy, governance, and portfolio management.
Enable managed change in response to new mission, business, and legislative requirements.
Align the organizational, business process, and enterprise IT domains to business strategy.
Identify opportunities to fill gaps, mitigate risks, and gain efficiencies.
Achieve a faster return on enterprise IT investments.
Execute their business transformation initiatives in a cost-effective manner.
Questions?
Contact Us.
We're happy to walk you through our solutions.